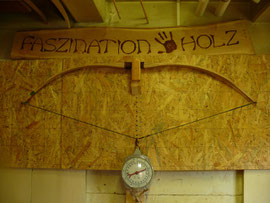 Yes, correct, the guy also makes bows for hunting or sports. Yet not out of boredom, but because tilling is the best way to learn about the toughness of wood.


This way, I can translate the knowledge of making an efficiently durable bow to the production of other wooden weapons. Or just give the Makiwara some thought. What would such a striking board be without the right tapering, making the bending possible? In the meantime, bow construction enthrals me so much that I have equipped my workshop with a large tillering tree and a shooting gallery and would now like to slowly include the first archery articles in the shop. With regard to bow construction, I also have a great ambitious target. In the future, I would like to be able to offer my customers typical Japanese bows, too, the so-called yumi.

It is very complicated to make them so I would first like to bring my bow making skills to perfection.

What distinguishes me from others in this fast-growing scene is that I primarily rely on vegetable raw materials. I do without backings from skin and do not twist the bowstring from hair or animal tendons. Here, I use linen or hemp instead. In principle. Many types of wood are suitable for the bow; the right design and the tiller are more important. As I like to make bows from planks with vertical grains, I prefer long-stranded wood such as ash, hickory and robinia.

What would a bow be without arrows? In this case, I work closely with an artist blacksmith friend of mine, with whose help, hand-forged tips and fire arrows will soon also be available. One of the next projects for the turning lathe is sure to be the whistle arrow.


Look forward to what's coming! Subscribe to the newsletter and don't miss out!